›
›

Apartment in Town Square, Dubai, UAE 1 bedroom, 70 sq.m. № 1360
Apartment in Town Square, Dubai, UAE 1 bedroom, 70 sq.m. № 1360
2664
Property description
NO COMMISSION for intermediaries
the developer undertakes to pay 4% of the mandatory registration
A unique payment plan where you get the keys within 30 days after making a 10% reservation deposit and then pay 80% in equal installments over 5 years without any commissions or premiums.
Live now - pay later!
very convenient and transparent reservation system, even for those buyers who, for some reason, cannot personally visit Dubai at the present time!
reliable developer with a high reputation!

TOWN SQUARE
This is the ideal place for you if you want to really feel at home and to hold your life in your hands, looking confidently into the future.

If you want to be part of the stylish society of Dubai City, Town Square is the perfect choice for you. It is close to a variety of shops and restaurants, nearby is the magnificent Town Square Park.
Your family deserves the perfect home and Town Square is exactly what you are looking for. With lots of green parks, jogging trails and branded stores, cloudy days never happen here!

RWADA Apartments
Rwada Apartments offer 1, 2 and 3 bedroom apartments located in the Town Square neighborhood of Dubai. Each apartment here has been designed with your comfort preferences in mind. Every square meter of your apartment can be used to create your ideal home. There are no useless corners or walls that would be impossible to decorate the way you want.

Every millimeter of your home has been carefully designed to enable you not to waste your apartment's space. Now you can let go of your internal designer and do whatever you want.

In the apartments you can enjoy the views of green parks every day. Fresh and cheerful park boulevards outside your window will always help you freshen up after a hard day or spend a pleasant weekend with your family. This is probably the best that Dubai property has to offer, so sit back and enjoy.

The exit to the main road is literally around the corner, so commuting to work or traveling by car around the city will not be a problem for you. You can also while away your evenings by cycling or jogging just outside your doorstep.

Modern design is successfully combined with classical architecture in a bright and spacious apartment. Filled with natural light, they are designed to maximize your comfort as much as possible. The sophisticated lobby with high ceilings, spacious sun terrace and two sports halls are very good reasons to return home. You can also get out of the house for a wellness run under the shade of green foliage.

INFRASTRUCTURE:

· Swimming pools;

· Modern medical centers;

· Schools;

· Park and bike paths;

· Cinema Reel Cinemas;

· 350 retail stores, cafes, restaurants and brand boutiques.

· Town Square public park the size of 16 football fields;

· Central park (37 sq. Km.) - one of the largest central parks in the world;

· A variety of attractions for all family members;

· Quiet paths for walking around Town Square;

· Cinema, garden with stone sculptures.

· Playgrounds for children.

· 14 public gardens;

· 6 km treadmill;

· Bike path 3.4 km long.

· 2 football fields;

· 2 basketball courts;

· Skate parks and tennis courts;

More than 25 gyms
Location
Location
Close to schools
Close to the kindergarten
Suburb
Near restaurants
Outdoor features
Children facilities
Children's playground
School
Completion date
IV quarter, 2020
Seller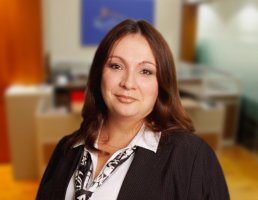 Elena Timchenko
Sales Director / Managing Partner