›
›

Apartment in Dubai Marina, UAE 3 bedrooms, 160 sq.m. № 1414
Apartment in Dubai Marina, UAE 3 bedrooms, 160 sq.m. № 1414
1409
Property description
Construction began in 2016. Both towers consist of apartments with 1, 2 and 3 bedrooms and several penthouses with 4 bedrooms.
The apartments in this project have significant potential for capital growth.
HORIZON INFINITY.
Located in one of Dubai 's most popular residential areas, it rises majestically 52 | 42 Tower.
As in all his other projects, Emaar sought to create a cult and unique facade in the design of two towers.
The architectural form is inspired by a nautical theme and is emphasized by the smooth silhouette of the ship and smooth aerodynamic lines.

Feel life by the sea like never before.

SEASIDE Tranquility.

Would you like to live every day as if you were on vacation? In 52 | 42 TOWER A carefully designed complex of private terraces, infinity pools and green spaces will provide you with a comfort zone .

Concierge service and superb club facilities in the resort's atmosphere will satisfy your every need.

The lobby is cozy and breathtaking and offers views that extend across the sea to the horizon that meets you and your visitors. Immerse yourself in a complete seaside atmosphere thanks to the alternating combination of water features and carefully maintained garden capes.

Your calm will provide a departure from the hustle and bustle of a busy city.

WELCOME TO THE PANORAMIC LIFE.

Surround yourself with stunning views.

In the towers, all apartments have breathtaking panoramic views of Dubai Marina Bay, Palm Jumeirah and the beautiful Arabian Sea , not to mention the charming view of the center of Dubai's skyline in the distance. While the breathtaking sea view amazes residents during the day, an equally charming scene meets them at night, when Dubai Marina is lit by the lights of the night city.

COASTAL LIFE.

Dubai Marina is an elegant community on the waterfront that is the first choice for the stylish and sophisticated .

Emaar Dubai Marina offers Riviera style accommodation in a modern aesthetic setting and is one of the first of its kind in the region. The area includes ten sections with amenities that can satisfy any lifestyle, including Dubai Marina Mall, a shopping and entertainment center, Dubai Marina Address, a 5-star premium hotel with serviced residences; and Marina Plaza - an exclusive commercial tower.
Location
Location
City center
Suburb
Near restaurants
Distance to the sea
First sea line
Second sea line
Completion date
IV quarter, 2020
Seller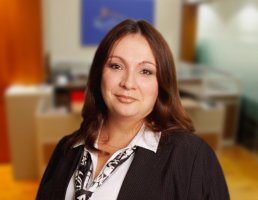 Elena Timchenko
Sales Director / Managing Partner