›
›

Apartment in Dubai Creek Harbour (The Lagoons), UAE 2 bedrooms, 97 sq.m. № 1463
Apartment in Dubai Creek Harbour (The Lagoons), UAE 2 bedrooms, 97 sq.m. № 1463
1369
Property description
The Creek Gate two tower complex provides premium one, two, three and four bedroom apartments with an exclusive location and stunning views. Overlooking the green parks and shimmering waters of the Dubai Creek, staying here will give you access to a wide range of recreational and entertainment options that will bring Creek to life.
LOCATION
EPICENTER
Creek Gate is located in the parkland area of Creek Island and is easily accessible from the circular boulevard.
The iconic Harbor Gate facilities are within walking distance of Emaar Square, a new world-class shopping center, 10-15 minutes from Downtown Dubai and the International Airport.

• DUBAI CREEK TOWER, a new global project to reshape Dubai.
• 15 minutes drive to Dubai International Airport
• 730,000 m 2 - serviced apartments
• 7.3 million m 2 - living space
• 700 000 m 2 - parks and open spaces
• 200,000 - inhabitants
• 900,000 m 2 - retail space
• 450 - unique species of animals

FUNCTIONS

WORKSHOP UNDERSTANDING

The luxuriously furnished Creek Gate Apartments echo the elegant tower architecture. Specifically designed for the expansive living and dining area, the neutral color palette accentuates the stunning views outside the window. Functionality and style of the union, every detail, from sleek fittings to attractive fixtures, has been perfected.

YOUR OWN PERSONAL PARADISE ON EARTH

Start your day with an energetic workout at Creek Gate's fully equipped gyms, then spend time with your young children in the dedicated children's play area. Enjoy a refreshing swim in the temperature-controlled pools and watch the sunset from the landscaped terraces with friends. Creek Gate has everything you need to relax and unwind right here.

LIFESTYLE

EASILY BALANCED

Fascinating views. The lush greenery of the park below evokes serenity, while the sparkling lights of the Dubai Creek Tower excite the senses. Feelings of peace and wonder will also not leave you. Shaded green streets lead you into a delightful park and then you merge with shops and activities on the busy boulevard.
Location
Location
Close to schools
Close to the kindergarten
City center
Near restaurants
Outdoor features
Children facilities
Children's playground
School
Completion date
III quarter, 2020
Seller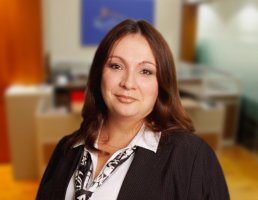 Elena Timchenko
Sales Director / Managing Partner