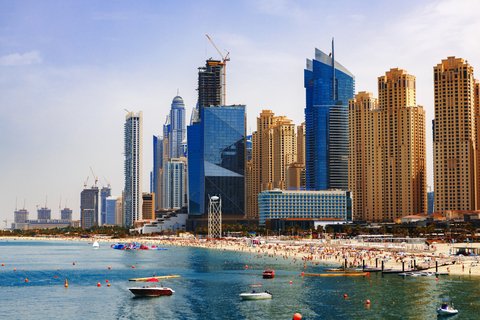 A great number of new buyers will discover Dubai's real estate and relative affordability during the exhibition.
Housing prices in Dubai are still shy of one-fourth of their 2014 levels during the previous market cycle peak. However, Expo 2020 is definitely accelerating recovery in the sector as its positive impact becomes more visible in Q4 2021 and will be even more visible early next year.
The Dubai property market's recovery continues as prices have been rising for 11 consecutive months, though the pace of the recovery is slowing. Prices increased by 1.2 percent in September, now standing at USD 263 per square foot.
In spite of the fact that prices have recovered over the last few quarters, they still remain one of the most affordable in comparison with other major cities of the world, as they suffered a persistent decline in rates over the years.
According to the International Monetary Fund's latest data on global real estate, property prices in the UAE dropped by almost 4 percent in 2020, due to the impact of the COVID-19 pandemic, which is one of the highest rates in the world. However, as new coronavirus cases went down to around 100 per day, boosting confidence among consumers and investors, the recovery in the real estate sector is accelerating.
In September, real estate transactions in Dubai reached USD 27 billion. And the monthly sales transactions volumes and values in the run-up to Expo 2020 has been phenomenal, thanks to a good number of international investors present in the market.
The effect of Expo opening has not yet been felt in the market but it will have a positive influence on the last quarter of 2021 and the first half of 2022 as new buyers discover Dubai's real estate and relative affordability compared to other major cities and financial hubs.
So far, the recovery in the Dubai real estate market has been mostly driven by the strong sales in the villa and townhouse segments, especially in traditionally popular locations.
2021 looks likely to be the best year in a decade in terms of residential investments, as September transactional volumes already exceeded all annual totals since 2010.