›
›

Apartment in Jumeirah Lake Towers, Dubai, UAE 4 bedrooms, 607 sq.m. № 6604
Apartment in Jumeirah Lake Towers, Dubai, UAE 4 bedrooms, 607 sq.m. № 6604
2609
Property description
BVLGARI RESORT AND RESIDENCES
Designed by the Italian architectural firm Antonio Citterio Patricia Viel, Bvlgari Resort and Residences in Dubai is the first of its kind in terms of scale and size, which aesthetically transforms the core values of its two partners, Bvlgari and Meraas.
Bvlgari Resort and Residences in Dubai is the fifth Bvlgari hotel complex in the world. A luxurious project located in one of the most privileged areas of Dubai - Jumeirah Bay Island, surrounded by lush landscaped gardens, covers an area of over 1.7 million square meters. feet.
Overlooking a stunning bay with a white sandy beach, right on the seafront with breathtaking views of the Arabian Gulf, Bvlgari Resort combines modern and traditional architecture, offering a mix of traditional and contemporary styles that reflect the design and style of the surrounding area. Another gem that sparkles in Jumeirah Bay is the world's first "Bvlgari Marina" and "Yacht Club", a place where taste, elegance and sophistication meet and merge into a single whole.
A unique project that combines the thoughtfulness of every detail - be then inside the house or in a circle. All apartments, lofts and mansions offer great views. Spacious interiors with panoramic windows create elegance and convey the freshness of the mesmerizing landscape outside.

The classic BVLGARI style is evident in every detail - whether at home, in public areas or in the wider community.

Features of the project:

• apartments with 1-3 bedrooms
• lofts with 3-4 bedrooms
• penthouses with 4 bedrooms
• 3-6 bedroom mansions
• panoramic windows
• located 5 km from Sheikh Zayed Road
• 6 km from Burj Khalifa and Dubai city center
• 2 km from City Wok, an innovative outdoor seating area with a concept of high quality retail, food and beverage
• designed by designer Antonio Citterio from preliminary concept to delivery
• Bvlgari Marina has more than 50 berths and can accommodate boats ranging in length from 30 to 120 feet. The berths enjoy all hotel services, including cleaning, security, concierge, florist and on-board catering
• The Yacht Club is an exclusive member-only facility with a large outdoor pool and sea terraces set in lush landscaped gardens. The hotel also has a Lounge Bar and a Member Lounge.

ELEGANT DESIGN AND MASTERPIECE CREATED BY HAND HANDS
Location
Location
Close to schools
Close to the kindergarten
City center
Near restaurants
Completion date
IV quarter, 2018
Seller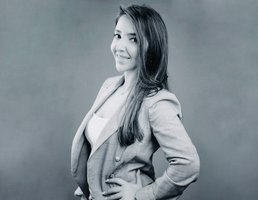 Elen Manukyan
Managing Director