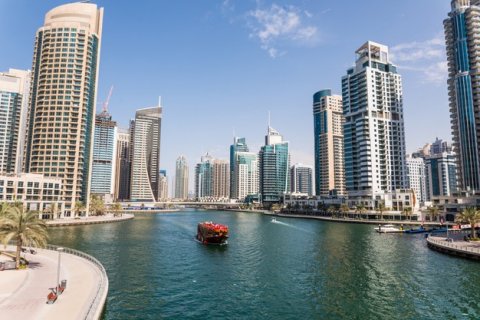 Of December 2021, the population of the United Arab Emirates is 10,033,929. The Migration Policy Institute claims that 88% of them are economic migrants, which means that the UAE is a popular destination for a change of residence.
The UAE authorities are interested in attracting new capital from abroad and they are trying to create comfortable conditions for investors and locals. Moreover, this means that obtaining resident visas happen under new and simplified conditions. We will tell you more about the features of obtaining a long-term visa in the UAE below.
Table of contents
How to obtain a UAE resident visa in 2022
If you are planning to move to the UAE, then you will need to apply for a resident visa. There is no "residence permit" in the UAE, but there is a "residence visa", that is, a permit to enter and stay. So what are the benefits of a residence visa in the UAE?
It grants the right to stay in the United Arab Emirates from 6 months to 10 years, depending on the basis on which you are issued a visa.
It expands the opportunities of the foreigner and affords the same economic security as a UAE citizen.
With a resident visa, you can visit the UAE at any time. However, you should be aware that the duration between visits should be no more than 180 days.
Residence visas may be issued to family members (spouse and children).
A visa can have different time periods, for example:
Highly qualified professionals and investors who have invested an amount of at least AED 10,000,000 (about $3,000,000) in the country's economy can apply for a 10-year residence permit in the United Arab Emirates. Alternatively, to obtain a 10-year residence permit, you can also make an investment by building your own company from scratch or by developing a group of companies with a new or already operating enterprise in the UAE.
Those who have invested at least AED 5,000,000 or about $1,500,00 in real estate can apply for a residence permit in the UAE for 5 years. However, if the property is purchased with a mortgage or any other loan, its owner cannot apply for a resident visa.
A 3-year resident visa may be granted to those who have purchased real estate for AED 750,000 or more, or about $205,000. To obtain a residence permit in the UAE for 3 years, the investor must provide documents proving that he has a monthly income of at least AED 10,000. In addition, the applicant must remember that the real estate on the basis of which he will be granted a residence permit can only be purchased in Dubai and cannot be mortgaged.
Obtaining a 3-year visa for a resident of the United Arab Emirates will cost its owner from $3,500 to $4,000, but it is important to bear in mind that it can be extended so there is no need to regret the money spent. Holders of a residence permit in the UAE for 3 years are not allowed to stay outside the country for more than 6 consecutive months.
A 6-month resident visa is similar to a guest visa, but unlike the latter, it allows multiple entries into the country for 6 months. It requires an investment in any property of at least AED 1,000,000 ($205,000) in any emirate of the state.
A visa for intellectual merit. Talented programmers, doctors, virologists, epidemiologists, artificial intelligence developers, and university graduates with excellent academic results can expect to receive a long-term visa. The spouse of a specialist and their minor children can also get a long-term visa.
Types of residence visas in the UAE
There are several types of residence visas in the UAE, namely, a visa by property investment, a business investment (opening your own company) visa, a student residence visa, and a work visa:
Visa for real estate investments. The main condition is the purchase of housing for $205,000 (AED 750,000). The visa is issued for 6 months or 3 years. Mortgage loans are permitted (with an initial contribution of 50% of the housing value). When buying expensive properties with a mortgage, the buyer can also pay off part of the debt of AED 750,000 and get a visa.
If you launch a company in a free economic zone in the UAE, a zone with no taxes and ideal conditions for running a business, you get the opportunity to apply for a residence visa. However, to do this, you have to invest an amount of at least AED 70,000 or $19,000 in the country's economy. Also, the investor only has the right to work in their own company. Furthermore, if you do not have an opportunity to run your own business in the United Arab Emirates or if you are not going to purchase any real estate in the country to the value of $270,000, you can still enroll at a local university or apply for a job at a UAE company to get a student or work visa.
Studying at a university in the Emirates allows you to obtain a residence permit. To apply for a course in any UAE college or university, you will need to provide your IELTS or TOEFL test results. You should also bear in mind that at many universities and colleges you are required to pay for the whole academic year, which can cost anywhere from $5,000 to $10,000, depending on the university or college. In addition to this, if you have a student visa you are not allowed to work in the UAE.
A work visa for an individual is requested by a company officially registered in the United Arab Emirates. So if you receive a work visa, you can only work only for that particular company. Furthermore, you can only apply for a work visa once your qualifications have been confirmed.
How to apply for a residence visa
How do you apply for a resident visa? It is necessary to collect the following documentation:
A valid passport.
A completed visa application form.
Three color photographs size 3x4.
Documents for a child or children, if you are bringing them to the UAE.
Documents providing proof of obtaining a residence permit in the United Arab Emirates.
A receipt confirming the payment of the consular fee.
Statements of income of the applicant.
Marriage certificate for women who want to obtain a residence permit in the UAE while living in the country without a husband.
All the above-mentioned documents must be copied and certified by a notary with translations in English or Arabic, which must also be stamped and signed by a notary.
You can apply for a resident visa or a residence permit in the United Arab Emirates on the website of the ICA Federal Authority for Identity & Citizenship or through the General Directorate of Residency & Foreigners Affairs.
Alternatively, you can also apply for a new visa or renewal of an existing visa through the online portal eChannels, but first you need to register in the system.
There are mobile applications through which you can also apply for a residence permit in the UAE or for a resident visa:
ICA UAE eChannels for Android and iOS.
GDRFA Dubai app for Android and iOS.
Besides submitting online residence permit and visa applications, you can also apply offline at:
Official typing centers where you can apply for a GDRFA visa in a certain emirate.
Amer service centers where visas and entry permits are issued.
We will assist you in choosing a villa or an apartment in the United Arab Emirates!
Start searching for a home in the UAE right now! Emirates.Estate has collected the best properties for sale in the UAE! We are happy to help you choose a place to live and we are also ready to provide legal assistance in preparing documents. Purchasing an apartment in the UAE with our help is always safe and reliable!