Contents:
Most popular new buildings in Dubai among foreigners
The United Arab Emirates and Dubai in particular are famous for luxury and wealth. This state is regularly ranked among the best in terms of quality, life, and real estate prices. Of course, you can find inexpensive apartments in Dubai that will also please an owner with grace and comfort.
We have collected the TOP 10 real estate in Dubai in the off-plan category for you. This is real estate under construction in modern areas. To buy an apartment off-plan means to find the most profitable option. Due to our various offers, you will be able to find a property by a developer with a proven track record.
The Residences Dorchester Collection
The Residences Dorchester Collection is an exclusive building in the heart of the Emirate. The new project was designed by Omniyat, one of the best construction companies in the UAE. In total, the residential project consists of 39 luxury residences that are fully furnished with hotel service. The English Dorchester Collection Team will be involved in this project and their standards are significantly higher than those of similar companies.
The Dorchester Collection Dubai Residences will be the first and only of its kind that is not located in the UK. It is located near the famous Burj Khalifa Tower. A magnificent private garden, spa center, and swimming pool located on the roof will be available to all guests.
The prices start from AED 21,000,000.
Seven Hotel and Residences
Seven Hotel and Residences is a project located in central Palm Jumeirah Island. This luxury building offers residents private access to the beach and can be an excellent option for both summer holidays and year-round stays.
The apartments in the residential development project are fully ready to move into. They are renovated, furnished, and fully equipped. Magnificent views of the Persian Gulf are a gift from the developer. The ready-made infrastructure is also pleasing with seven fitness spaces, grocery stores, pharmacies, restaurants, etc.
Prices start from AED 700,000. For this price, you can buy a studio with an area of about 40 sq. m. A single apartment of over 90 sq. m. will cost AED 1,350,000.
Golf Views
Golf Views is a unique project in the modern area of Jumeirah Lake Towers (JLT). It provides residents with magnificent views of the golf course. Moreover, the owners overlook the beauty of Dubai Marina through their windows.
The residential project offers an excellent selection of luxury apartments that are fully furnished. There are studios to 3-bedroom apartments to choose from. The apartments are also equipped with all the necessary household appliances for everyday life. Sophisticated designs and minimalistic interiors will make you feel right at home.
Golf Views is located along the famous Sheikh Zayed highway, which is the main artery of the city and allows you to easily get to any area of the emirate. There is also an underground station nearby. Other public transport is also well-developed. It is worth highlighting a sports club, swimming pools, children's play centers, a rooftop recreation area, and a beautiful garden for walking.
Prices start from AED 730,000.
ELS
ELS Residence is located in Arjan, one of the fastest-growing areas of Dubai. ELS offers a wonderful lifestyle, combining economical homes with modern infrastructure and interesting places to relax in an area of 57,000 sq. m. The residential development project consists of 270 houses and offers studios and apartments with 1 and 2 bedrooms where a minimalistic living space provides the right balance of privacy and security. ELS guarantees that more than 40% of the area will be allocated for green spaces.
It combines the amenities of both good infrastructure and luxury living such as landscaped gardens, a health club, a barbecue area, places for relaxing holidays, and so on. In addition to the eco-friendly infrastructure and the joy of living in the community, ELS also provides easy access to the Sheikh Mohammed Bin Zayed Highway.
Prices start from AED 980,000.
La Voile
La Voile is located on the seashore and next to the marina. The apartments are designed in a minimalistic style. The construction is underway and will be completed in 2022.
The apartments are presented as 1-bedroom flats that have a bedroom, a kitchen combined with a living room, bathroom, and balcony.
Residents can enjoy swimming pools, gyms, a private beach, an outdoor park with playgrounds, secure parking, and a marina overlooking Jumeirah. There are many shops, restaurants, and cafes nearby. It has all the amenities and conditions that make La Voile an ideal place to live.
Prices for apartments start from AED 1,482,000.
Act One | Act Two
Act One | Act Two is a new project. It is located near the Dubai Opera. It is anticipated to become a haven for all those who value high culture and a high level of life.
The residential project is a duet of the most modern skyscrapers with heights of 52 and 46 floors. In total, there are more than 700 premium-class apartments. These are apartments with 1, 2, and 3 bedrooms, including duplex apartments with private access to terraces, and 4-bedroom properties with views of Burj Khalifa and the dancing fountains of Dubai.
The interiors of the residential community mix modern and classical styles. Each apartment is already sold with furniture and unique details for each of the residential properties.
The greenery will allow you to spend time outdoors with pleasure. What's more, Act One | Act Two also has swimming pools and ponds.
The location will allow residents to easily get to important sites of the city such as Dubai Mall and Souk Al-Bahar Market. It is also close to the underground station.
Prices start from AED 1,550,000.
Bayz by Danube
Bayz by Danube is the perfect place to live in luxury.
Bayz by Danube embodies ambitious Dubai and pushes you to achieve high goals. A house with a magnificent view of Burj Khalifa has the chance to become a new popular place in the emirate. These are 29 floors of high-quality luxury and elegance. Lobbies and elevators are decorated with marble.
The residential development project is equipped with a luxury swimming pool, party room, children's playground, barbecue area, fully equipped health club with state-of-the-art amenities, as well as a sauna and steam room.
The apartments also have chic modular kitchens that are created for comfort and luxury.
Prices start from AED 600,000.
Downtown Views II
Downtown Views II is a 60-story tower that features apartments with 1 to 3 bedrooms, as well as 4-bedroom apartments with access to the roof. Unsurpassed interiors are combined with magnificent views of Burj Khalifa and the central area of the emirate.
The apartments in Downtown View II provide owners with an exquisite lifestyle. This option is also great as an investment that guarantees a good return on rent. Real estate will never fall in price. The apartments offered have high-quality finishes and comfortable furniture.
Downtown View II has an excellent location just a few minutes' walk from the Dubai Mall. It is conveniently located in the vicinity of Sheikh Zayed Streets and the International Financial Center DIFC.
Prices start from AED 1,653,000.
District One Residences
District One Residences has club-format apartments. The enclosed area provides privacy and comfort of living. You can choose from apartments with between 1 to 3 bedrooms.
It is interesting because there are not only high-rise (up to 16 floors) buildings but also low-rise. You can buy a house in a 4-story building if you prefer not to live too high.
District One is a project of the Meydan Sobha Group. This reliable developer offers a wide selection of apartments in the Mohammed Bin Rashid. District One has an excellent location and developed infrastructure. There are schools, medical institutions, catering establishments, lounge areas, etc.
Prices start from AED 1,374,000.
Reflection
Reflection is a premium class residential project. It is designed in an urban style. Home comfort is combined with a modern atmosphere. Reflection consists of 2 towers between which there is a spacious park where you can have a picnic, barbecue, or do yoga. There is a gym with the latest equipment and a swimming pool with a view of the park on the lower floors in each of the towers. The apartment windows offer panoramic views of both the sea and the park. Each of the apartments has its own parking space. The apartments have an area of 65 sq. m.
Prices start from AED 898,000.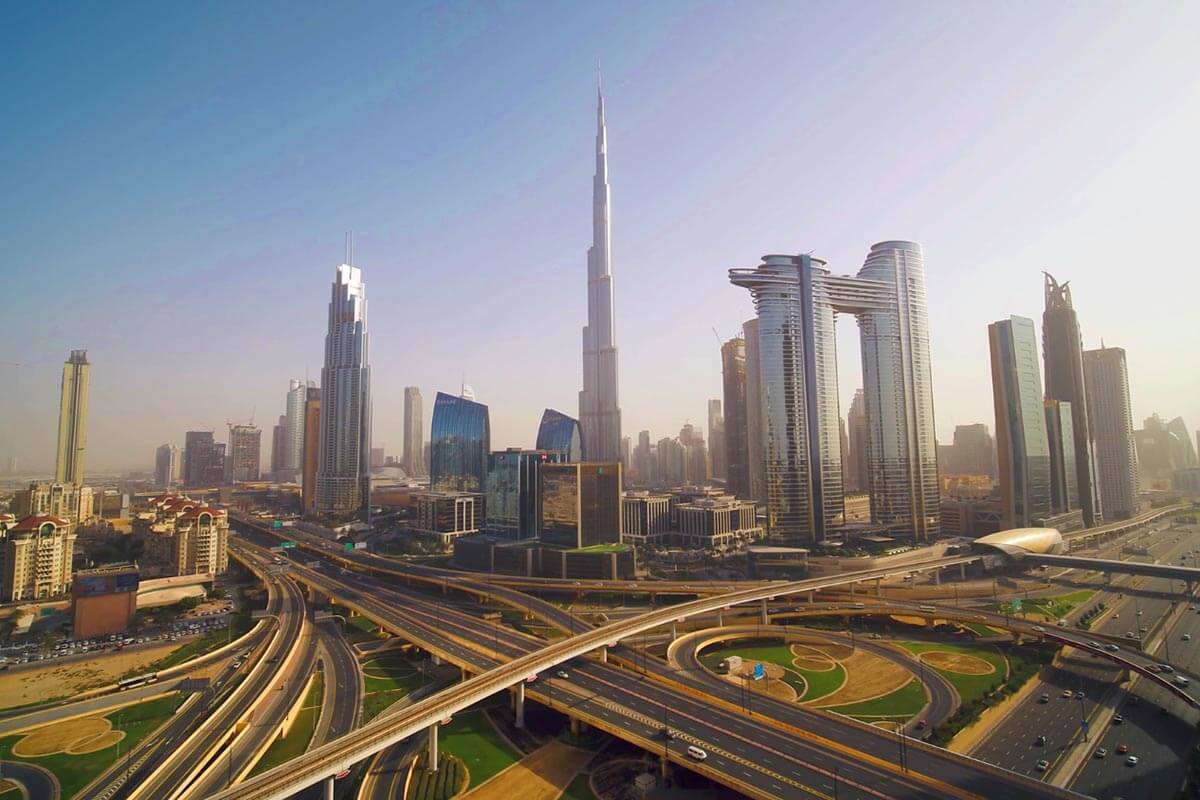 Choose an apartment to buy in Dubai
Just contact our agents. Our agency specializes in new buildings in Dubai. Besides this, we have many villas and townhouses in new areas of the emirate. We will offer advice on what to choose based on your personal preferences. Moreover, our company is always ready to help with documentation, transaction support, and after-sales service.
Write to us today to get the best real estate proposal in the UAE tomorrow!