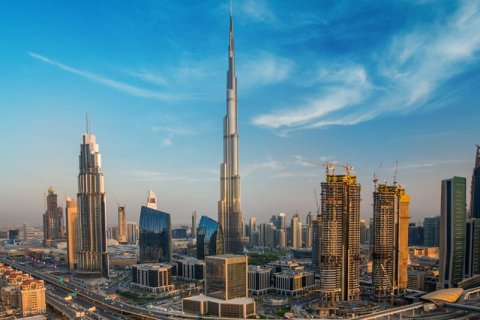 Contents:
Rules of entry to the UAE for foreigners
The United Arab Emirates is one of the most popular destinations among foreigners for holidays or permanent residence. Each state has special rules of entry and residence. It is necessary to know these regulations if you plan to enter the country.
Foreigners who come to the UAE for holidays are granted a visa for 90 days. It does not need to be issued in advance. This visa is granted to a traveler at the airport of the United Arab Emirates. As a rule, it is obtained by the airline for free. The same rules apply to obtain a transit visa for Dubai during transfers (for foreigners) at the airport of the emirate for further flights to another country.
Minors are required to have a new type of passport that has the biometric data of its holder. If a child who has arrived in the UAE has different surnames than his parents or one of the parents, then an original birth certificate of a little tourist and a translation of this certificate into English need to be provided. A minor who arrived in the United Arab Emirates without parents but accompanied by other relatives or third parties must present consent from both parents for the departure of the child with an English translation. It is necessary to notarize the paper.
If a European arrives in the Emirates for a purpose other than vacation and a period of more than 90 days, then he/she needs to apply for an appropriate visa.
Types of visas
For foreigners, including Europeans, there are several types of visas for the UAE:
Tourist;
Transit;
Work;
Student;
Guest;
Business;
Resident.
A tourist visa to Dubai for a holiday is given free of charge for 3 months upon arrival at the UAE airport. Such a visa does not require special documents as only a passport is needed. The exception is only for children under the age of 18.
A transit visa to Dubai also does not require prior preparation. It is granted to foreigners who have arrived at the Dubai airport for a transfer and further flight to another country. The duration of staying in the country for this type of visa is 96 hours.
A work visa is granted to a foreigner who is officially employed in an enterprise or organization in the UAE. This visa is obtained by the employer and the term granted is equal to the term of the employment contract.
Foreigners who have entered a university in the Arab Emirates are granted a student visa. All registration is assigned to the UAE higher education institution provided that this college or institute has a license from the UAE Ministry of Education.
A guest visa is given to persons who arrive in the Arab Emirates to visit on the invitation of a close relative living in the Emirates. Such a visa must be granted directly by a relative who lives in the UAE. At the same time, he must prove kinship with the guest by providing the appropriate documentation.
A business visa is needed for foreigners who have arrived in the UAE for a business trip. This visa allows you to stay in the country for 14 days. When applying for this type of visa, you need an invitation from an organization registered in the Emirates.
In addition to the above types of visas, you can obtain a residence permit or resident visa in the following cases:
Purchase of real estate in Dubai or another emirate of the country worth at least AED 1,000,000;
Establishing your own business in the UAE;
Marriage to an Emirati citizen.
What documents do I need to apply for a visa for Dubai?
No documents are required to obtain a tourist visa other than a foreign passport. Children under the age of 18 must have their own passports. If the child does not have his own passport but it is entered in the parents' document, this option is not suitable when crossing the border of the Emirates. In some cases, a birth certificate translated into English and notarized will be required, for example, if the parents and the child have different surnames. If a child arrives in the UAE without parents, then their consent to accompany the minor by third parties - translated into English and notarized - plus the child's birth certificate is required.
To obtain a transit visa for Dubai, an adult will only need a passport.
To apply for a work visa, a European citizen must provide copies of all the current passport pages to the employer. The employer sends the documents to the appropriate authority.
In order for a student who is enrolled in a university in the United Arab Emirates to obtain a visa, it is necessary to prepare the following documents:
Passport valid for at least 6 months from the date of entry and photocopies of all pages;
Color photo scanned on a white background;
Document regarding studies;
Birth certificate and a copy (for a minor student);
Bank statement with the amount of funds in the account;
Document confirming that the study has been paid for;
Rental agreement or proof of residence. Students can apply to real estate agencies in the UAE to search for and rent housing in Dubai. These documents are then provided by the agency.
For those who arrive in the UAE by invitation to visit, the following must be provided to obtain a guest visa:
Passport and a copy of all pages;
3.5 * 4.5 photos;
Document that confirms kinship (which must be provided by the inviting person).
For a business visa, you also need a passport, copies of all its pages, a photo, and an invitation from a company registered in the UAE.
If you decide to buy an apartment in the UAE worth at least AED 1,000,000, first ensure whether the developer provides the opportunity to obtain a residence permit. In addition, it is worth finding out what zone of real estate ownership the area offers in which you are planning to buy. If it is a freehold zone and the developer grants the right to obtain a residence permit, then you need to provide a passport, copies of all its pages, a photo, and a document confirming the right to own real estate in the UAE.
If you decide to get a resident visa after marrying a citizen of the United Arab Emirates, you need to provide a passport, copies of all its pages, a photo of 3.5x4.5 cm, and a marriage certificate in order to apply for a visa.
To obtain a visa through establishing a business, in addition to the passport, its copies, and photos, you must provide a bank statement of your account status and solvency.
If you received a residence permit, you have the right to travel outside the United Arab Emirates. However, if you leave the country for more than 180 days then your visa will be canceled.
Where to apply for a visa in the UAE
Some tourists go through the procedure for obtaining a visa on their own by submitting documents via the Internet or through a personal request. When applying for a visa yourself, you must provide:
International passport and a copy of it;
Passport and copies of the completed pages;
Visa application;
Round-trip flights;
Photo;
Copies of all visas (valid and completed);
Document to confirm solvency.
You can also contact a travel agency to apply for a visa. As a rule, a travel agency includes visa processing in the list of services when buying tours or air tickets to the UAE, making it a convenient process for you.
Terms of obtaining a visa for the UAE
The average time to receive a document through the visa application center is 3-5 days. There are also urgent registration services. It is important to keep in mind that Friday and Saturday in the United Arab Emirates, in particular in Dubai, are considered days off.
Costs and penalties for violating the visa regulations in the UAE
At the airport, a tourist visa is issued free of charge and a visa extension costs about USD 45. The price to obtain a visa varies depending on the chosen intermediary. For instance, the Dubai Visa Application Center charges about USD 90.
Penalties are issued when regulations are violated; first, a payment of USD 2,500 and then USD 41 as a penalty for each day delayed thereafter.
We will help you buy real estate in the UAE
Do you want to buy a property in Dubai and get a residence permit? We advise you to contact our agency for detailed information about real estate in the United Arab Emirates. By contacting us, you will find out whether the chosen area is a freehold zone and if full ownership of real estate is possible after purchase. Our agents will listen to all your wishes, answer all your questions, and help you find your dream apartment.
Contact us today to get the best property proposal!