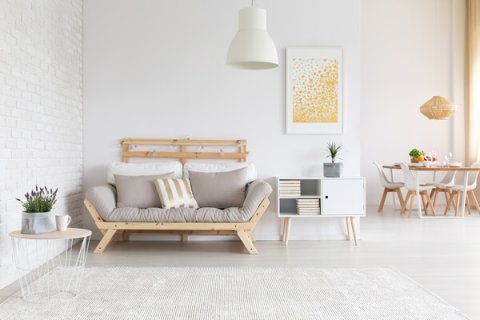 Luxury real estate is a fundamental segment of UAE real estate market, which has largely determined the popularity of the region for tourists, ex-pats, and investors.
The largest developers in the country have made their world renowned names in luxury real estate. This sector is the main reason many wealthy buyers, ex-pats, and investors have turned their attention to United Arab Emirates.
It's difficult to overestimate the role of this real estate sector when one of the symbols of UAE and the tallest building in the world is the extra-luxury Burj Khalifa hotel apartment.
In this article, we are going to explain briefly but meaningfully what UAE luxury real estate is, why you should invest in it and what to expect from this market soon.
And we'll start by defining what generally sets the luxury real estate sector apart from any other.
Content:
What makes luxury real estate luxurious
The first requirement is not the most obvious, but the most key. It's a subjective perception. Luxury real estate is primarily luxurious because there is a category of people who consider it as such.
Luxury real estate can't simply be measured by the selling price or the number of square meters, although this is an important indicator.
In the end, no one will argue that a typical mansion with golden plumbing, even if it costs an incredible amount of money, will still turn out to be an ordinary property compared to a model of small penthouses in the center of Dubai, made under the guidance of a famous designer in 10 pieces only.
The uniqueness of such a product and the feeling of exclusivity that it gives, brings it to a completely different league than any mansion, even with flashy luxury.
Luxury is a changeable concept. And to understand it, you need to keep track of what is in demand among the audience who is ready to pay large sums of money for such real estate.
The following list of basic customer needs can be compiled with a quick overview of the market:
Innovation
Location, architectural originality, cultural or aesthetic value.
Advanced technologies
Here the main violin is played by "green real estate" - this real estate is made up of the most modern materials and using to the most advanced technological processes, in order to minimize harmful emissions into the atmosphere.
The "green" theme is trendy today. Everyone is chasing it and they are ready to overpay for it.
Experimental housing and artisanship
Artisanship and what has been created by hand are more appreciated than ever.
Functionality and style
Property development is gaining in popularity. Even residential complexes that are supposed to provide an atmosphere of relaxed provincial life are essential in providing all the comforts that can be found in a large city.
The concept of a city within a city dominates demand as well.
Privacy and professional security
We have long entered a time where privacy and solitude are extremely difficult to achieve. There are too many ways for third parties to take over your private information, or to monitor your privacy.
Considering this, many buyers are looking for a property that is fully equipped, to prevent unknown persons from accessing their private lives. At least with regard to the size of their own home.
Property readiness for housing on a turnkey basis
Buyers want property that is designed specifically for their needs. However, it needs to be in such a condition that they can move into it with no need to modify it or perfect anything. The new house should be a finished piece of art, complete from start to finish.
All the above aspects are perhaps the most difficult part of determining luxury property.
Now we'll briefly have a look at the objective factors that need to be considered:
Prices
Prices for luxury real estate are always at least 15–20% higher than the market average. This type of real estate usually grows by about 7–15% per year.
Return on investment
This type of real estate is distinguished by higher profits/returns with more unpredictable prices and rental rates because this sector is aimed at a small part of the population.
Location
Typically, luxury property is located either in areas dominated by high-rise real estate with the offer of large apartments and penthouses, or in fenced-in cottage villages.
These areas often offer one or two unique properties that become the focus of the market's marketing. For example, "a city within a city".
Area
It often starts from 120–140 sq. m., although this is a variable indicator.
A small apartment, but within a building designed in collaboration with a famous designer, will cost a lot more than many large villas in popular areas.
Height
The height of premium properties from floor to ceiling always starts at 3.6 meters.
Benefits
Luxury real estate always tries to attract buyers with distinct and unique tastes: private rooftop pools, personal gyms, cinemas, quick access to local elite schools and medical centers, and other attractions.
Manufacturability
Frequent emphasis is placed on living life securely. Houses in this category often come complete with a variety of emergency buttons for calling rescue services, as well as special fire ramps.
They are often provided with solar generators, various automated smart home functions, dedicated areas for first aid, and bunkers for rescue from natural disasters and terrorist attacks.
Why invest in luxury real estate
If we've decided on the definition and demand for premium real estate, then we must also indicate what the benefits are for investors in this sector of UAE market.
Now, the current situation is interesting. On the one hand, luxury real estate in Dubai is very affordable for buyers. Its prices have been declining for the last 5-7 years and reached record lows in 2020.
One can buy five times more property in Dubai than in well-known sector leaders such as London for $ 1,000,000.
This makes the purchase of luxury real estate a profitable investment in terms of spending money.
However, on the other hand, it was necessary to understand why prices were falling. The decline in prices was due to the lagging demand for the constantly growing supply. And as such, this can make one think about investment justification.
Yes, it's profitable to buy cheap luxury real estate for personal use. But for those who want to make money on the purchase, the question arises, how does one make money on what is getting cheaper?
This is certainly a sensible question that has worried many investors and analysts in recent years.
However, by the beginning of July, there was a very sudden change in trend and the price of luxury real estate began to rise sharply. Right now, this can be seen when looking at the sector of villas and townhouses. However, apartments should soon join the upward movement.
There are many reasons for this breakthrough in development, but it's not necessary to go into detail about it here. It's much more important to understand the current situation.
The rise in prices in the sector is irregular, but sooner or later it will affect the entire supply of the premium sector in the Emirates.
Investors are faced with the question of when the timing's correct for the acquisition. Is it still worth waiting to grab the lowest prices or will it be delayed, and they'll become buyers when prices rise sharply?
Analytical agencies and real estate agents are currently closely monitoring the movements of UAE real estate market and are waiting for further news where this is concerned.
It's also worth noting the many benefits and services that major government institutions have introduced into the sector over the years to attract foreign investment.
Investors can be content with a tax system free of personal income, property, and land taxes. Ownership of real estate through a company without intermediaries is allowed. This allows for a large share of anonymity since only the ownership of property by the company is registered and not the one who specifically uses the property at that moment.
There are many visa regimes for investors and different incentives.
For example, in Dubai, foreigners can easily get a mortgage that will cover up to 80% of the cost of buying luxury real estate. At the same time, if you are going to make money on the acquired assets, you can be content with one of the highest ROI (return on investment) in the world at an amount of between 8-15%.
The luxury real estate market offers a wide variety of offered properties such as villas, townhouses, penthouses, and apartments with five or more rooms.
Dubai developers annually bring more than 60,000 new residential properties to the market. Most of these are high-end properties that can be found in the luxury areas of Palm Jumeirah,Dubai Marina, Emirates Hills, Downtown Dubai, and many other areas.
Overall, the elite sector is doing its best since 2015, so it's worth jumping on the growth train before it hits full force.
From here, we're moving on to the last paragraph of this article, situation, and market development trends.
The current situation, prospects, and trends of market development
As we've indicated earlier, UAE luxury real estate experienced a gradual and stable decline in prices due to the unbalanced supply and demand with regards to an overabundance of the latter. This has especially affected the Dubai market.
However, the situation has changed.
In the first half of 2021, more than 10,000 new investors arrived in Dubai alone, while the rest of the world is still under international anti-coronavirus restrictions.
Abu Dhabi still relies heavily on the oil sector, while Dubai has already been able to get off the oil-dollar "needle" and diversify the economy, linking together the commercial and transportation industries with the IT sector and developed industry. All this spurs on the tourism sector and relies on the real estate market.
Economy diversification, together with the private sector was strengthened by reforms in the field of migration and long-term plans for the development of the real estate market until 2040. Many highly skilled workers have already returned to the market and the number of FDI has increased.
Dubai also expects to participate in the upcoming Expo 2020, which will take place from 1 October 2021 to 31 March 2022. Its effects are already being felt by many in all sectors of the economy and especially, in the luxury real estate market.
In just the first six months, 22 luxury properties were sold with a total price of $ 770,000,000. Nineteen properties were sold in 2020.
Although, real estate for $ 10,000,000 is becoming the norm.
The above-mentioned aspects are the "best market results since 2015".
Villas worth over $ 30,000,000 bested the top sales in well-known luxury neighborhoods such as the Palm Jumeirah.
In just a few months, from January to May 2021, the rental rate increased by $ 9,500-15,000.
And this is not the limit at all.
If this trend continues, and it is likely to continue, then this means that premium real estate rentals will continue to grow rapidly.
This means that the growth of rent will also be followed by an increase in purchase and sales prices, as part of the demand will shift from rent to the purchase of current cheap luxury properties.
Based on all the above, S&P Global gave a positive forecast of 30% growth in profits in this sector by the end of this year. And the growth of total GDP for the market is generally expected to be 3.5% in 2021 and 2.5% in 2022.
Conclusion
The luxury real estate sector is not large in absolute terms, but it can still be extremely profitable.
Now, there is every reason to expect multiple rises in prices and profits from such an asset. So, it's important not to miss out on this moment and buy a home before prices suddenly go on the rise.
Naturally, some analysts have doubts about the growth trend in the market being maintained and they're right. However, most assessments, even according to the most conservative opinions, point to an albeit not very active, but stable growth of the premium real estate sector.
As for Expo 2020 in Dubai, we advise you to keep a close eye on price and demand movements in the next few months ahead.