Real estate in Dubai is rather diverse and unique, as it includes residential and commercial stock, high-rise buildings and detached houses, and the most modern complexes. What's more, Dubai has shown that it is a serious contender in the real estate sector. Especially, having completed the construction of some of the world's tallest buildings to the development of huge projects in the shortest amount of time. So over just a few decades, this long-ago desert, which is now located on the site of a modern metropolis, has become one of the most advanced cities in the world.
It also didn't hurt that experienced investors identified that Dubai was ideally located, which can bring a good profit.
As such, real estate buyers from all over the world rushed here.
Today, experts list some of the main reasons why American, European, Asian and other capital investors all flock to make investments in Dubai.
Although, it should be noted that according to them, it makes no sense to single out one (or more than one) reason. Furthermore, competent people who have been investing for a long time combine the various reasons into a comprehensive 'list' in their minds. This then results in a good profit from owning local property. For more on this, let's read through the rest of this article so that we can understand more about what these reasons are when it comes to investing money and making more money.
Content:
Why do i need to invest in the purchase of local accommodation in Dubai?
The first advantage that buyers need to be aware of is that Dubai has already developed an image of "nothing is impossible".
What's more, when one hears the word "Dubai" one immediately thinks of property and investment. As such Dubai has come to be associated with a high standard of living and with the rapid development of the real estate market.
In addition, there are no taxes for most areas of activity (which is very important for businessmen), it has a tempting climate (the swimming and sunbathing season lasts practically all year round), and an incredibly well-developed resort infrastructure. Among other things, property owners have excellent rental income and those who are engaged in resale also see high profits.
The second advantage that buyers need to bear in mind is the adoption of the law on real estate (this law says that citizens of other states can acquire property together along with the right to dispose of them at their own discretion, whether it involves selling, giving, inheriting, renting, and so on), which also helps to attract buyers to the city. Also, the first advantage that buyers need to remember is that there are zones in the metropolis where foreign citizens can purchase housing (freehold property). The second advantage for buyers is that there are also places/residential complexes where you can only rent a room in an apartment for a maximum period of 99 years. In this instance, you don't need to live in the apartment for the entire period because the house can be rented out to another person. Plus, the third advantage is that it's mostly developers who rent villas and apartments for that amount of time, not individuals.
So the law gives investors a sense of security and confidence in the future, especially, since they are the ones dealing directly with their own property. What's more, they have the right to do whatever they want with it.
The fourth advantage for buyers is the absence of property taxes. However, there is a fee for registering one's property with the state agency that deals with such transactions.
Why invest in real estate in Dubai?
The fifth advantage for buyers is just because Dubai is well-developed right now (ahead of many other cities in the world), it doesn't mean that it has reached its limit. On the contrary, Dubai's real estate market is developing quite successfully and is just starting to peak. Especially, since many more new projects are emerging and being implemented here. The fact that the real estate market is growing in line with the level of development of the metropolis, reveals that the capital gain of 10% per year here does not seem large. However, this number is a standard in the real estate market in countries all over the world (no more than a 10% growth for most other countries is a good indicator).
However, one day the cost will stop increasing and prices will be close to that of the European ones.
The sixth advantage for buyers is that Dubai not only acts as a tourist center, but it's also a financial and commercial center. A huge number of organizations, including international corporations and financial institutions are open for business here.
What's more, experts of the UAE and Dubai, in particular, are trying to attract global business to the Emirates. For example, organizations such as Internet City and Media City have already established themselves here. Furthermore, experts have noted that a large economic recovery will contribute to an increase in Dubai's local population. In addition, experts go on to say that they estimate Dubai's economy will become twice as large in the next 10 years. Meaning, many buildings in the city, including new ones will be much more popular and in-demand than they are now.
Moreover, leaseback schemes (when a property is purchased and then re-leased to the seller) are particularly convenient for investors.
This is very convenient, especially when the residential complex is managed by a hotel operator.
Is it profitable to invest in local properties in Dubai?
The seventh advantage for buyers to consider investing in local properties lies in the comparison of Dubai's local real estate market with that of the real estate markets in Western European countries (for example countries such as France and Spain). More specifically, Dubai's local real estate market is more profitable than its Western and European counterparts.
The eighth advantage for buyers to consider investing in local properties is that local apartments in Dubai are profitable. For example, there is a popular district in Dubai that has become one of the most famous in the whole world. Palm Jumeirah, is the first artificially created island in Dubai and is quite profitable.
Plus, the views from here aren't bad either. This is one of the main reasons why foreigners from all over the world choose to stay here when they're on vacation.
So many people who have visited Dubai at least once, enjoy and appreciate not only the high standard of living here but the development of the combination between the traditional culture and that of the modern-day culture. It truly is something remarkable and unique. In addition to this, there are also a huge number of nationalities from different countries, representatives from all over the world, and people from different religious beliefs, all living in this now eclectic place.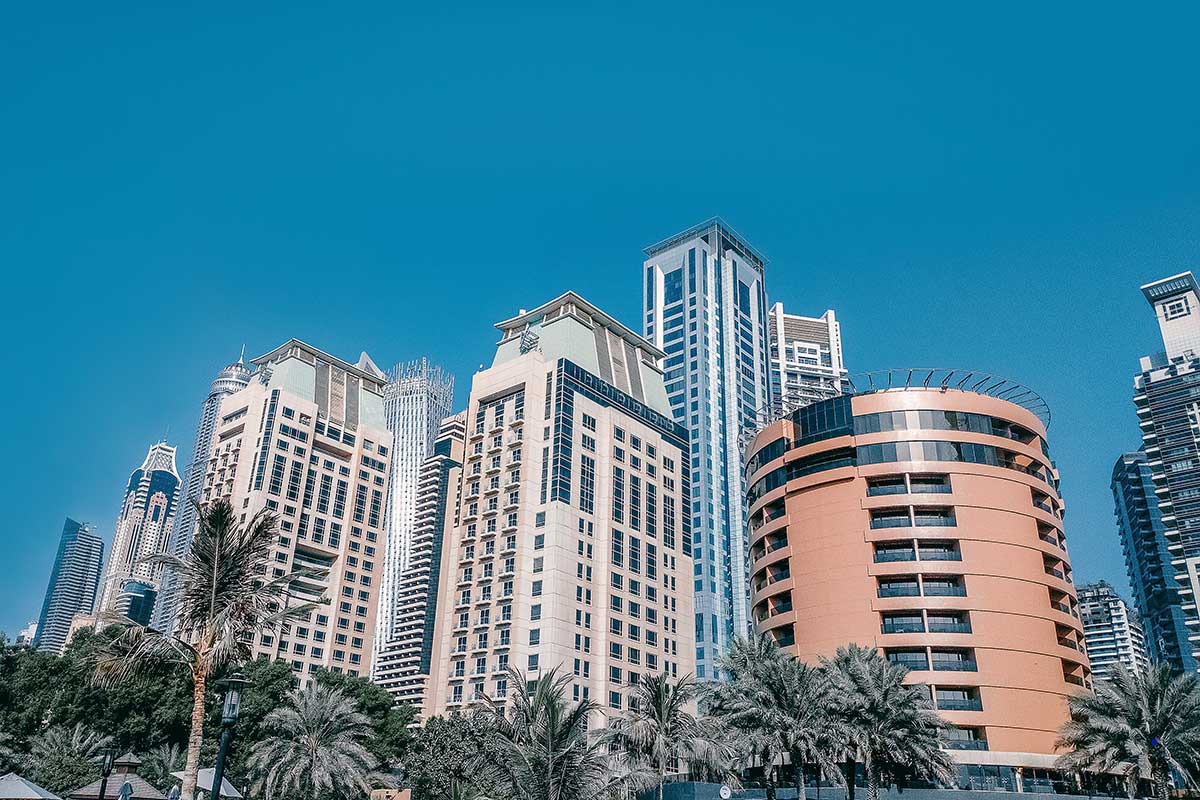 Reasons to invest in real estate here in Dubai. What do people say?
Mikhail, Tyumen (the presence of the ocean the ninth reason)
"For the first time, we came here on vacation with our family. In Tyumen, there is no sea. And here, in addition to it, there is also excellent weather, which allows you to spend time on the beach from morning to evening, sunbathing and swimming. After the first trip, we decided that we needed to move. We did not sell the apartment in Tyumen, and thought, let there be housing in Russia and in UAE. In Dubai, we bought a two-bedroom apartment. We live here and we are very happy. Seeing that people come here and buy cottages and apartments, I decided to invest in the purchase of the property for resale. I tried it once and it turned out to make good money. I'm currently looking for another property. I think it will work this time too."
Ramil, Kazakhstan (the convenience of doing business here and the opportunity to develop your company, the tenth reason)
"I run my own business. Why did you decide to buy a house in Dubai? Because before buying a property, I was in this city many times as an entrepreneur. I came to business meetings. There are business partner organizations here. Now, I have already lived in this city for several months and I visit Kazakhstan part of the year. I am happy that I bought an apartment because it has become even more convenient to run my company's business. In addition, there are more partners and customers, as I began to meet and negotiate with them more often. Because the market of companies in different areas is much larger here than in Kazakhstan and in any country. Probably, maybe, except for the United States, where it is developed in about the same way. I can also say that my clients are now local residents and immigrants who live here. They are richer than in some other countries. So they are willing to pay quite different amounts of money. So my company is now only thriving, which I am very happy about."
We will assist you to purchase a villa or apartment in Dubai
Employees of the Emirates.Estate website aggregator, as well as our partners, help foreigners from all over the world to find the property they need. So whether you're in search of personal or work accommodation, we've got you covered. What's more, our real estate services are comprehensive and even extend to liaising with sellers, negotiating discounts, and making purchase agreements. So as you can see, we take you through the whole process. This includes all the stages of the property purchase. Our experts are true professionals and are happy to be of service to you. Choose us and start looking for your dream apartment today! Simply access our website, use the portal and start searching away. It's as easy as that. Especially, since the user-friendly interface is designed in such a way that investors can easily find any type of housing, commercial property, or plot. If you have any questions, please feel free to contact our experts via the feedback form. Alternatively, or you can also call the phone number listed on our website. For more information, please visit our website directly at https://emirates.estate.