The UAE real estate market is growing as fast as the country itself. It is hard to imagine that just half a century ago poor fishing villages were scattered across the land where state-of-the-art, dynamic cities with modern skyscrapers are now situated. Following the integration of individual emirates in 1971-1972 and oil discovery, the country started getting richer and due to wise investment in industry and agriculture, it managed to reach economic prosperity in a relatively short period.
The UAE is a dream country for many people today. It has a warm sea, never-ending summer and high standards of living – no wonder people wish to stay there for longer holidays or even take up permanent residence. In addition, the Emirates is a great country for doing business. The government allows foreigners to open companies in the country under highly favorable conditions: 100% ownership, affordable fees, no income tax, etc. People also come to the UAE to work and study. Moreover, it is a popular real estate investment destination, for example, to buy property to rent out as there is no real estate or rental tax in the country. Properties in the UAE have high rental yields – 7% per year on average. And as the population of the country is constantly growing, so is the demand for rented accommodation.
The choice of housing in the UAE is great. Construction is permanently underway in all the cities; new apartment complexes, townhouse and villa communities and whole new districts spring up. There are many options from affordable to premium with a whole range of convenient amenities. In apartments, this could be unique infrastructure or villas, a private swimming pool or garden.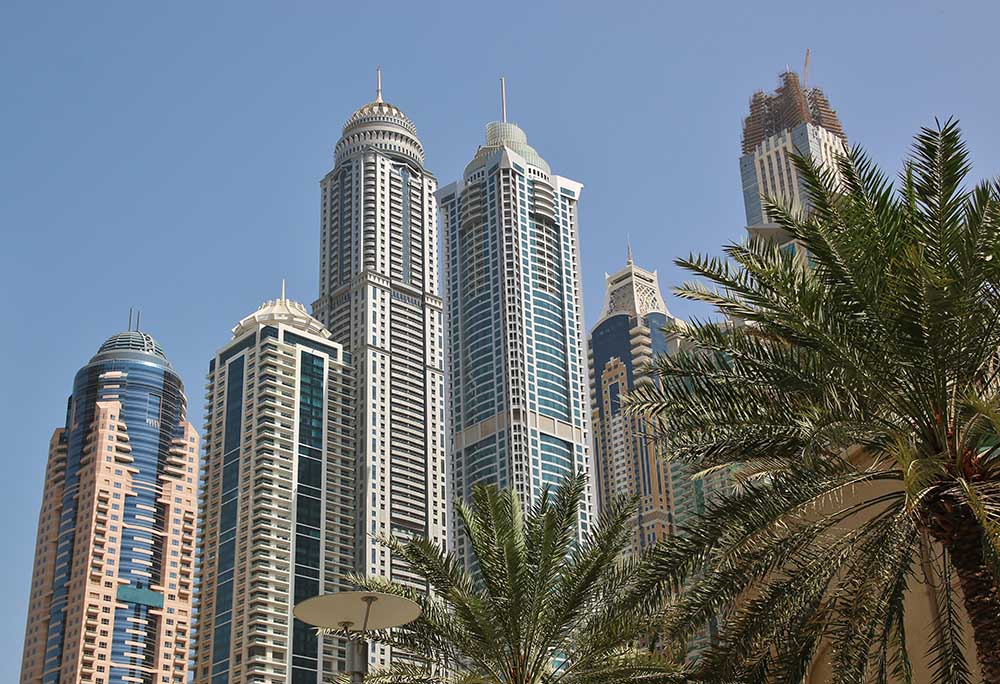 Foreigners can buy property in the UAE but only in freehold areas. Freehold areas are designated zones free of financial restrictions typically found in the rest of the world. Freehold areas are found in all emirates and as a rule, they are some of the most sought-after neighborhoods with a great variety of property types to choose from.
The UAE is made up of seven emirates: Dubai, Abu Dhabi, Sharjah, Ajman, Ras Al Khaimah, Fujairah and Umm Al Quwain. Each of them is unique with its own pace of life while also each having its own rules. Some emirates like Dubai are more liberal and some like Sharjah are stricter. Those who wish to buy property in the Emirates should take all these factors into account when making a choice.
1-bedroom apartments are probably one of the most popular types of property of all time. How much does a 1-bedroom apartment in the UAE cost? Firstly, the price depends on the emirate. Secondly, it depends on the district. And lastly, on the floor space of the apartment, the story it is on, the age and quality of the house, and the amenities available. In addition to this, every buyer has their own demands and preferences.
Dubai is undoubtedly the UAE's leader in residential property sales and the most liberal and popular emirate of all. They often call this huge, multinational metropolis Middle Eastern New York, with people from all over the world visiting in search of work and better life. There are always plenty of job opportunities and consequently, high demand for housing and the highest supply. 1-bedroom apartment prices in Dubai largely depend on the district. Russian-speaking customers tend to choose the 3 following areas: Dubai Marina, Downtown Dubai andPalm Jumeirah. Prices of 1-bedroom apartments here start from $127,000 and are the most affordable options that include fully-furnished as well as furniture-free apartments. On average, 1-bedroom units in these locations cost from $240,000 to $570,000 and $650,000 to $750,000 in the premium areas. But if you look through the offers posted on Property Finder or Bayut, you will find more expensive 1-bedroom units with prices starting at 1,000,000 USD.
Dubai has more affordable housing options that are mostly found in peripheral areas like International City or Dubailand. 1-bedroom apartments in districts like these cost $70,000 with an average price are $85-87,000, and the most expensive apartment costs about $240-260,000. Despite rather high long-term rental yields - up to 9% - properties in these districts are not considered liquid from the point of view of resale. Most migrants employed in low-paying jobs in Dubai rent apartments there so it might be difficult to sell your property afterward because of the area's dubious reputation. What's more, for example, the quality of housing in International City is not very good and the district itself is considered old (it was established in 2002) while Dubailand has poor infrastructure.
There's no doubt that in terms of supply, Dubai outweighs all other cities of UAE. However, it is also worth noting that all customers have their considerations and living standards there are just as good.
Abu Dhabi is another well-known and popular emirate. Abu Dhabi is the capital of the United Arab Emirates, the largest and the richest emirate in the country. The lifestyle in Abu Dhabi is more tranquil than in Dubai and will appeal to those who don't like much hustle and bustle. The city boasts long glorious beaches and has a great number of various green zones, parks and gardens.
A non-resident foreigner can be employed, set up a company (on their own in one of the freehold areas or with a local partner) and buy property in Abu Dhabi just like in Dubai. There are fewer new developments in Abu Dhabi compared to Dubai which is why the supply is less too. Moreover, life in the capital of the UAE is quite expensive and the same goes for the property.
1-bedroom apartment prices in Abu Dhabi start from $223,000. Here too, a lot depends on the district. For example in Al Raha - popular among expatriates and immigrants - the price of 1-bedroom apartments ranges from $223 to $462,000, and on Yas Island from $211 to $353,000. According to the leading real estate platform Property Finder, Al Reem Island has the largest number of 1-bedroom apartments for sale with an average price of $245-235,000. Areas preferred by foreigners include Khalifa City A and В, Mohammed Bin Zayed City and Downtown Abu Dhabi but they do not always offer apartments for sale.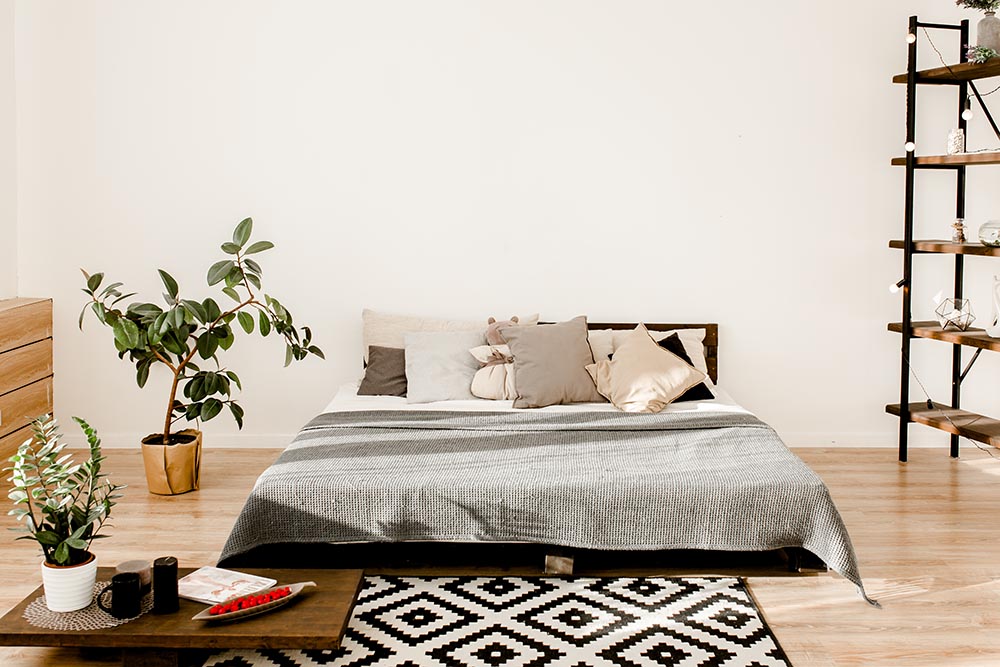 Another emirate to consider is Sharjah. Compared to other emirates it is more traditional and stricter and it is known as the cultural capital of the UAE. Art and culture devotees will definitely love the city. The pace of life there is even more relaxed and calmer than in Abu Dhabi and a bit cheaper too.
As for property purchases, 1-bedroom apartments to be precise, Sharjah has a more limited choice compared to other UAE cities. For example, Property Finder provides just 22 search results while Bayut results in 37. The average price of a 1-bedroom unit in Sharjah is $133-156,000 - notably lower than in Abu Dhabi.
Ras Al Khaimah is located in the north of the Arab Emirates. This emirate presents quite an attractive alternative to Dubai. Due to its northern location, the landscapes of Ras Al Khaimah are more diverse; there are mountain peaks, long stretches of sandy beaches, and much richer vegetation.
Nowadays, Ras Al Khaimah is developing very fast and the region has immense economic potential. Lots of expats already live there, there is an international airport, new resorts and hotels are springing up, and the city expects to welcome millions of tourists. Residential building construction is underway here too but Ras Al Khaimah's main competitive advantage over Dubai is the affordability of housing that is actually of the same quality.
Ras Al Khaimah ranks third after Abu Dhabi with the number of 1-bedroom apartment search results. The cheapest 1-bedroom unit there costs $84,000, the most expensive one costs $272,000, while the average price is $95-103,000. Ras Al Khaimah has freehold areas so foreign nationals definitely can buy property there. In the future, with infrastructure developing around new residential developments, housing prices will start increasing too. Thus, now probably is the best time to invest in real estate in Ras Al Khaimah.
Another destination to buy a home might be the smallest emirate of UAE - Ajman. Ajman is a rather compact city; it is not big but is easily accessible from Dubai and Sharjah. A freehold area was established in Ajman in 1996 so conditions for setting up a business, being employed or investing in property for foreign citizens are basically the same as in all other emirates. Ajman's government welcomes new investors and provides all possible assistance to them.
Housing in Ajman is reasonably priced and 1-bedroom unit prices start at $27-36,000. On average, 1-bedroom apartments cost $94-108,000.
The article has listed the main and most popular destinations for buying 1-bedroom apartments in the UAE - each of them has its own distinctive features, advantages and disadvantages. It is up to buyers to choose as everyone has their own aims and preferences. Perhaps it is also worth noting that units constructed by state-owned large developers like Dubai Properties (DP), Meraas Development and Emaar Properties PJSC are more trustworthy. Companies like these have a long-established reputation in the real estate market and do not just construct buildings but develop whole neighborhoods, providing complete infrastructure. So when looking for an apartment, future property owners are recommended to consider the areas being developed by one company responsible not merely for a single apartment, house or even residential complex, but the whole district.
The 1-bedroom apartments market differs from emirate to emirate. Dubai has the highest supply as well as the widest price range from $70 to $750,000. 1-bedroom units in Abu Dhabi are pretty expensive and depending on the area, they cost from $223 to $462,000. Sharjah, Ras Al Khaimah and Ajman are more affordable from the point of view of property purchase but supply is lower there. 1-bedroom apartments in these cities cost from about $100 to 272,000.
To look for properties and prices, you can use real estate portals like Property Finder or Bayut that provide pictures, descriptions, and locations of 1-bedroom apartments for sale.
In general, the UAE remains an attractive real estate investment region. New apartments, houses and whole residential projects are being built all around the country with Dubai leading the way. However, other emirates are progressing rapidly too and offer great opportunities for life, work and business.